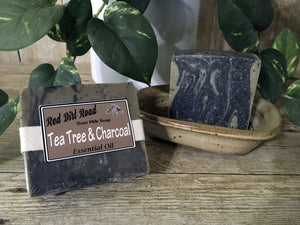 Tea Tree & Charcoal
Goat Milk Soap
The Tea Tree & Charcoal essential oil soap is very refreshing and cleansing. It is made with fresh ground coffee beans for a little exfoliation. Tea Tree is known to be one of the highest anti-fungals in essential oils and also has very high anti-bacterial and anti-viral properties. Tea Tree and Charcoal are both known for their great cleansing power which makes this a good facial bar also. This is a great soap if you enjoy the envigorating aroma of Tea Tree Essential Oil.
6 oz
Fresh Goat Milk, Organic Virgin Coconut, Sustainable Palm, Olive, Avocado, Sweet Almond & Castor Oils, Unrefined Cocoa & Shea Butter, Tea Tree Essential Oil, Activated Charcoal, fresh ground coffee beans, Kaolin Clay & Sodium Lactate
Cured for at least 6 weeks which makes a very hard, luscious bar that lasts a long time. Using  a draining soap dish will help to extend the life of your soap.