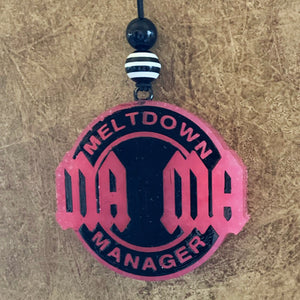 Mama Meltdown Manager
Car Freshie
Regular price $13.00 Sale
Aroma Bead Car Air Fresheners


Use for Car, Pickup, Tractor, Locker, any place that needs to smell good! Comes with beaded charms that can be used again. Fragrance oils can damage surface, so it is best to hang. When scent fades, use in drawers or closets. These are individually hand made so there may be color differences in the one you receive.

Mama Meltdown Manager
5" x 3.75"  4.1 oz

Amalfi Coast:

 

This is a nice strong salty scent with notes of sun-weathered driftwood, seaweed, fresh salty sea air and a hint of water lily.
Copper Coconut: Fruity accents add shimmer to this summer blend of creamed coconut and sea salt. Layers of musk and sugared vanilla blend with amber for lingering sweetness. A wonderful fragrance!
Creamsicle:

 

Who as a child couldn't wait for the sound of the ice cream truck while anticipating the cold deliciousness of a Creamsicle. This delicious fragrance will have your mouth watering and bring back fun memories with a smooth blend of sweet orange and decadent sweet cream.
Lavender & Sage has gentle lavender tones with fresh clean herbal notes. This exotic fragrance just captivates you! A unique balance of French lavender, bergamot and clary sage with a hint of eucalyptus. A classic clean and refreshing fragrance.
Pink Sugar

 

begins with sugary sweet notes of cotton candy, strawberry, raspberry and orange which fade to reveal sensual mid notes of lily of the valley, fig leaves and barbe-a-papa. The scent finishes on rich, soft base notes of vanilla, amber, musk, and woods.
White Tea is the ultimate, luxurious spa fragrance. It starts with fresh citrusy top notes of mandarin and bergamot. Middle notes of thyme and ginger, add an herbal spice that blends beautifully with delicate jasmine blossoms. Chrysanthemum petals and white tea buds round out the base of this exquisite fragrance. White Tea is infused with a dozen essential oils including jasmine, bergamot, mandarin, lemon and ginger which all add to the natural quality of the scent. Sandalwood, nutmeg and patchouli essential oils provide an earthy counter to this airy, ethereal fragrance. Customer Top Favorite with good reason!