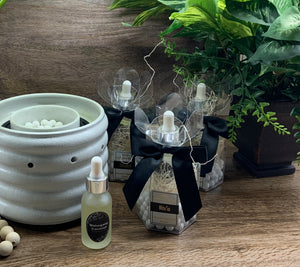 Vanilla & Ginger
Ceramic Fragrance Beads
Regular price $18.75 Sale
Vanilla & Ginger is a gourmand fragrance that takes you back to the holidays of yesteryear with the rich aromas of something delicious wafting from the kitchen. Crystalized ginger dominates a medley of cinnamon, clove, nutmeg and allspice, with hints of citrus and a dash of vanilla in this mouthwatering aroma.
Fragrance Notes: 
Top - Lemon, Orange
Heart - Ginger, Sugar
Base - Vanilla, Cinnamon, Clove, Nutmeg, Allspice
Vanilla & Ginger Ceramic Fragrance Beads is a delightful aromatic experience. Ceramic Fragrance Beads are a new way of scenting your home without the wax. They are super clean, re-usable and fill your space with a beautiful aroma. Ceramic Fragrance Beads are perfect for use in electric warmers where the heat will help release the fragrance. Simply drop or pour fragrance oil directly onto the beads, stir to coat beads and enjoy!