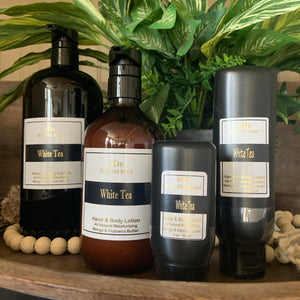 White Tea
Hand & Body Lotion
White Tea is the ultimate, luxurious spa fragrance. It starts with fresh citrusy top notes of mandarin and bergamot. Middle notes of thyme and ginger add an herbal spice that blends beautifully with delicate jasmine blossoms. Chrysanthemum petals and white tea buds round out the base of this exquisite fragrance. White Tea is infused with a dozen essential oils including jasmine, bergamot, mandarin, lemon, and ginger which all add to the natural quality of the scent. Sandalwood, nutmeg, and patchouli essential oils provide an earthy counter to this airy, ethereal fragrance.

Fragrance Notes:
Top - Bergamot, Mandarin
Heart - Thyme, Jasmine, Ginger
Base - White Tea, Chrysanthemum

This is everyone's favorite! Very versatile and great year round. If you don't know which one to buy for someone, this is it!
All Natural Ingredients:
Apricot Kernel Oil ~ All Natural Expeller Pressed GMO-Free
Mango Seed Butter ~ 100% Pure Cold Pressed Organic
Cupuacu Butter ~ 100% Pure Cold Pressed Organic
Glycerin ~ Kosher USP (Food Grade)
dl-Panthenol ~ Pro-Vitamin B5
Argan Oil ~ Virgin Cold Pressed Moroccon Grown
Meadowfoam Seed Oil ~ Cold Pressed
Vitamin E ~ Raw Organic GMO-Free MT-50 Full-Spectrum
Fragrance Oil ~ Paraben & Phthalate Free
We also offer this in
Goat Milk Soap, Room & Body Spray, Aroma Bead Car Fresheners, Ceramic Fragrance Beads
Raw Organic Cupuacu Butter, Mango Butter
& Organic Apricot Kernel Oil
Cupuacu Butter is extracted by cold pressing the seeds of the Cupuacu tree, which is commonly cultivated throughout the Brazilian Amazonian basin. The Cupuacu butter contains phytosterols which helps slow down deterioration of the skin.  Research has shown Phytosterols help promote the elasticity and suppleness of the skin. Cupuacu Butter has a high capacity for water absorption, making it an excellent emollient for the skin.  Cupuacu Butter is a member of the chocolate family, making it a luxurious addition to our all natural lotion.
Mango Butter has been used by the indigenous people of the forest regions of southeast Asia for centuries. It is known to be rich in antioxidants and emollients as well as Vitamins A and E, and it can be used to soften and moisturize rough and dry skin. Mango butter is anti-aging due to high levels of antioxidants. Triterpenes present in mango butter help heal & prevent aging of skin & reduces the look of lines & wrinkles. 
Apricot Kernal Oil quickly absorbs deep into the skin to restore cell membranes & seals in moisture. High in Vitamins A, C & E. Vit A repairs UV damaged skin & reduces wrinkles. Vit C promotes collagen & reduces wrinkles. Vit E combats free-radical damage & boosts elasticity.

Shirley Price, coauthor of "Aromatherapy for Health Professionals," notes that Apricot Kernal Oil is also beneficial in relieving the itch and irritation of eczema-ridden skin. As an added benefit, Price points out that Apricot Oil helps prevent and minimize the appearance of wrinkles.